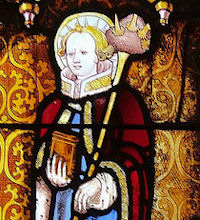 St. Nicomedes, Martyr
​
Nicomedes was a holy priest at Rome,
who was apprehended in the persecution of Domitian for his assiduity in assisting the martyrs in their conflicts, and for interring their bodies. Refusing constantly to sacrifice to idols, he was beaten to death with clubs about the year 90. His tomb was on the road to Nomento, and he is commemorated on this day in the sacramentary of St. Gregory the Great, and in the Martyrologies of St. Jerom, Bede, &c. See the Acts of SS. Nereus and Achilleus.
Source
Last edited: