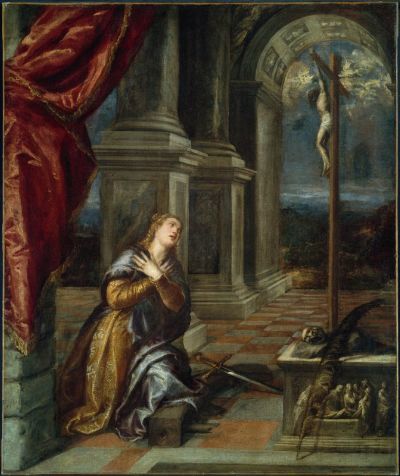 St. Catherine, Virgin and Martyr
Father Francis Xavier Weninger, 1876
​
St. Catherine was born at Alexandria, of pagan parents. She was gifted with great personal beauty, and possessed so extraordinary a mind, that she mastered all the sciences which, at that period, flourished in her native city. The only science of which she had no knowledge was that of eternal salvation; but this, too, she at last obtained in the following manner: It seemed to her, in her sleep, that the Queen of Heaven was standing before her in wondrous beauty, carrying her divine Son in her arms. But the latter, turning His face from her in displeasure, said that Catherine was ugly, because she had not been baptized. Catherine awoke, and, while thinking over her dream, she was inspired by Heaven to resolve to become a Christian.
When sufficiently instructed, she received holy baptism, after which the Blessed Virgin again appeared to her with Christ, who, looking tenderly at Catherine, placed a ring on her finger, as a sign that He had chosen her for His bride. On awaking, she found a ring on her finger, and, without delay, determined to consecrate her virginity to the Lord, and to become a more zealous Christian.

Maximin, the emperor, had appointed a certain day to celebrate a public sacrifice in honor of the false gods, and all the inhabitants of the city were commanded to take part in it. Catherine was deeply grieved to see that the people should thus honor the devil, and not have any knowledge of the true God. Arming herself with courage, she went fearlessly into the temple, where the emperor personally assisted at the sacrifice, and, addressing him with Christian freedom, she represented to him his blindness in worshipping idols, and endeavored to convince him of the truth of Christianity. The emperor was greatly surprised that a maiden should dare to speak thus to him, but was, at the same time, fascinated by the appearance and eloquence of Catherine. No sooner had he returned to his palace, than Catherine again appeared before him, and spoke so forcibly of the falsity of the heathen gods, and of the truth of the Christian religion, that the emperor knew not what to reply.

What he was unable to do, he thought others could do for him; therefore he summoned some of the most learned men into his presence, to answer Catherine's arguments, and persuade her to renounce the Christian faith. But the Almighty, Who, by a feeble maiden, could bring to naught the wisdom of the pagan sages, inspired St. Catherine with such eloquence, that she succeeded in convincing them of their error so completely, that they publicly renounced it, and proclaimed the Christian faith as the only true one. The emperor, enraged at so unexpected an issue, ordered these new confessors of Christ to be immediately executed. He then endeavored to win Catherine from her faith by flatteries and promises; and when he found that his words made no impression on the mind of the virgin, he began to threaten, and finally sent her away to be tortured. She was scourged so cruelly and so long, that her whole body was covered with wounds, from which the blood flowed in streams. The spectators wept with pity; but Catherine, strengthened by God, stood with her eyes raised to heaven, without giving a sign of suffering or fear.

After this cruel treatment she was dragged into a dungeon, and, by the command of the emperor, was left without food, in order that she might slowly pine away. But God sent an Angel, who healed her wounds and filled her heart with indescribable comfort. The Lord Himself appeared to her, encouraged her to fight bravely, and promised her the crown of everlasting glory. Some writers add, that the empress, having heard much of Catherine's wonderful learning, eloquence and fortitude, had deep compassion upon her, and secretly went at night with Porphyrius, the captain of the guard, to visit her in her dungeon. When she beheld Catherine's wounds healed, and the virgin resplendent with more than human beauty, she was speechless with surprise. Catherine made this miracle an occasion to speak to her of the omnipotence of the Most High, and of the falsity of the heathen gods. She spoke with such overwhelming eloquence, that the empress, as well as Porphyrius, promised to embrace Christianity.

Some days later, when the emperor was informed that Catherine was not only still alive but in better health than ever, he had her brought before him, and again assailed her with promises and menaces. Finding, however, that she was as firm as before, he gave orders that she should be bound to a wheel studded with sharply-pointed spikes and knives. The Christian heroine was not horrified at this inhuman order, but called with unwavering trust on God. When the executioners had seized her, and bound her on the wheel, the Almighty sent an Angel, who loosened the fetters and broke the wheel to pieces. Many of the spectators, on beholding this miracle, cried aloud: "Great is the God of the Christians! He alone is the true God!"

Maximin remained blind, and was thinking of new torments, when the empress came forward, reproached him with his barbarity towards a weak and innocent maiden, and boldly confessed that she herself recognized and worshipped no other god but the God of the Christians. The tyrant, hearing these words, lost all control over himself, and ordered the empress and Porphyrius to be immediately beheaded, and Catherine, as an enemy of the gods, to be taken to the public market-place and put to death by the sword. The fearless virgin went joyfully to the appointed place, exhorted all the people who had come to witness her death to abandon idolatry, prayed to God for their conversion, and then received the stroke that sent her soul to heaven. Ancient authors testify that milk flowed from the body of St. Catherine instead of blood, as had formerly happened at the death of St. Paul. Her body, they add, was miraculously carried by angels and buried on Mount Sinai, in Arabia.
Source
Last edited: