SSPX to Sell out to Newchurch by Accepting New Order Bishops
Francis-Bergoglio Has "Approved" Two New Order Bishops for the Neo-SSPX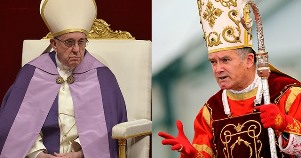 Francis-Bergoglio and Bernard Fellay (Right)
Have Connived to Fabricate Two New Bishops for the Neo-SSPX

The Two New Order Bishops Will Be Plants
Within the Neo-SSPX, Which Is No Longer the Traditional SSPX

The Consecrations (?) Are to Take Place
On Newchurch's Fake "Divine Mercy" Sunday
At That Time Fellay-Pagliarani's Neo-SSPX
Will Officially Become a Part of the Heretic New Order Sect
News is now beginning to leak out that Francis-Bergoglio has approved the consecration of two new bishops for the Fellay-Pagliarani Neo-SSPX on Low Sunday 2019. (In Newchurch, Low Sunday is now Divine "Mercy Sunday," based on the fake Novus Ordo cult of "Divine Mercy").
As we all know, Archbishop Marcel Lefebvre, the founder of the original traditional Society of St. Pius X (SSPX), and Bishop Antonio de Castro Mayer consecrated four bishops for the Society on June 29, 1988. These were Bernard Tissier de Mallerais, of France; Alfonso de Galarreta of Argentina; and Richard Williamson, of England; with Bernie Fellay, of the Suisse Romande, being added to the list at the last minute when Jean-Michel Faure bowed out on account of his humility. Since then, Williamson abandoned Fellay and his Neo-SSPX because of his dogged opposition to Fellay's plans to sell out the Neo-SSPX to the heretic Newchurch of the New Order.

Recently, Bishop Williamson has revealed that Bishop Tissier de Mallerais has been quite ill lately. Tissier is known to be much more traditional than is Fellay. He is also much older. Fellay and de Galarreta are just under 60; Tissier is well over 70; Williamson is nearing 80. In other words, Williamson has abandoned the Neo-SSPX, and Tissier, isolated and ageing, might become too ill to be an effective Neo-SSPX bishop. The Neo-SSPX is desperate for bishops to maintain its very existence. Instead of doing what its courageous Archbishop-founder did, shunning the heretic Newchurch and doing what was necessary, the Neo-SSPX is going hat in hand to Newchurch for "approval," which, as a heretic sect, it has no authority to give, any more than the Methodists do. The obvious question is: what does Francis-Bergoglio demand in exchange?

The strategy of Newrome and the Fellay-Pagliarani team of traitors seems to be to instate a de-facto "Personal Prelature" in a situation in which it is still too difficult to erect a juridical one. Once they have all the effects of the "Personal Prelature," there will be no reason to refuse it de jure and not to join the Newchurch of the New Order outright. And once this trap has been sprung, and the Neo-SSPX fly has become entangled in Newchurch's lethal web, there will be no escape for Neo-SSPX clergy and laity, who now depend on the already half Novus Ordoized Neo-SSPX.

The water is warming up, and the Neo-SSPX froglets are getting used to it. Before long, they will find themselves in a vat of boiling water, with no escape. Those who have any sense at all will abandon the Neo-SSPX's sinking raft as fast as they can. They can protect the true Catholic Faith only by going independent from the heretic Newchurch of the New Order and its satellite Neo-SSPX.

We agree entirely with our Roman correspondent. The Fellay-Pagliarani Neo-SSPX is sinking, and the Marxist/Modernist Newpope Francis-Bergoglio wants to take it over in its debilitated state. The Neo-SSPX has already sold out its sacraments (Penance and Matrimony) to Newchurch. Now its bishops are to be Novus Ordo plants. This scenario is exactly what happened to the Society of St. John Vianney (SSJV) in Brazil, which Newchurch destroyed as a traditional group by planting its own New Order bishops within.

Apparently, Fellay, Pagliarani & Co. have learned nothing from the destruction of the Catholic Faith perpetrated by changing to the New Order not overnight, but in small increments so that faithful wouldn't notice. This modus operandi began officially on May 28, 1948, with the appointment by Pope Pius XII of the Freemason presbyter Hannibal Bugnini to head a new Pontifical Commission to "Modernize" the Liturgy. That "modernization" led to the destruction and invalidation of the Mass, Divine Office, and Sacraments in the Newchurch of the New Order.
The descent into the black hole of the liturgical "New Order" consisted principally of the following steps that led to the full-blown implementation of the invalid Protestant-Masonic-Pagan "New Mass" of 1969 and the anti-traditional and unCatholic "Liturgy of the Hours" of 1970, which replaced the traditional Catholic Divine Office:

1951 - Easter Vigil changed
1954 - Vulgar tongues introduced into the Sacraments
1956 - Traditional rubrics of Mass, Divine Office, and Holy Week changed
1956 - The Apostolic Eucharistic fast was denigrated to a "mini fast"
1960 - Traditional rubrics and calendar of Mass and Divine Office changed again
1962 - Sacred Apostolic Roman Canon of Mass (dogmatically not to be touched) changed
1964 - Vulgar tongues introduced into the Mass
1967 - Dogmatic form of the Mass Consecration changed to an invalid Protestant form
1968 - New Ordinal to install Newbishops, Presbyters (formerly priests), and Lay Deacons introduced after Protestant forms
1969 - New Order (Novus Ordo) service (no longer a valid "Mass") introduced to replace the valid Traditional Latin Mass
1970 - New Order "Liturgy of the Hours" introduced to replace the 2000-year traditional Catholic Divine Office
Now the Neo-SSPX is falling into the same trap into which Catholics of the 1950s and 1960s fell. At least one could hope that Catholics would have learned from the sellout of the Catholic Faith then, but it appears that the Neo-SSPX has not. One now has to wonder seriously whether Fellay and Pagliarani are just stupid or whether they are deliberately acting as Newchurch's agents to sell out Archbishop Lefebvre's once traditional Society of St. Pius X to the Newchurch heretics.
Sent from my iPad