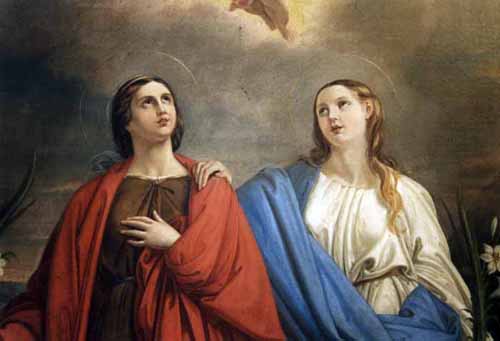 SS. Rufina and Secunda, Virgins
​



Rufina and Secunda were sisters and Roman virgins

. Their parents had betrothed them to Armentarius and Verinus, but they refused to marry, saying that they had consecrated their virginity to Jesus Christ. They were, therefore, apprehended during the reign of the Emperors Valerian and Gallienus. When Junius, the prefect, saw he could not shake their resolution either by promises or by threats, he first ordered Rufina to be beaten with rods. While she was being scourged, Secunda thus addressed the judge: "Why do you treat my sister thus honorably, but me dishonorably? Order us both to be scourged, since we both "confess Christ to be God."

Enraged by these words, the judge ordered them both to be cast into a dark and foetid dungeon; immediately a bright light and a most sweet odour filled the prison. They were then shut up in a bath, the floor of which was made redhot; but from this also they emerged unhurt. Next they were thrown into the Tiber with stones tied to their necks, but an Angel saved them from the water, and they were finally beheaded ten miles out of the city on the Aurelian Way. Their bodies were buried by a matron named Plautilla, on her estate, and were afterwards translated into Rome, where they now repose in the Basilica of Constantine near the baptistery.


Source
Last edited: