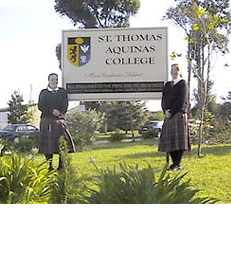 I have just learned that at Tynong Corpus Christi a student there asked about the Masses being held in the Tynong Hall.
Father replied to the effect that people attending there have wandered away; the priests who say Mass are committing a sin of disobedience; Bishop Williamson has a personality conflict with Bp. Fellay; If Bp. Williamson came to the Tynong priory, they would turn him away.
After giving this summary to the class I learned also that a copy of an old Angelus dated July 1988 was so different from what is being said today and that it became obvious why the priests at Tynong never mentioned the Consecrations Anniversary or anything else from the past. "Just keep silent and the truth will slowly disappear".
The following extract is from the heading,
"College Ethos"
Philosophy of
the College
In keeping with the government requirements (Education and Training Reform Act 2006) the programs of, and teaching at St Thomas Aquinas College, support and promote the principles and practice of Australian democracy, including a commitment to:

Elected government.
The rule of law.
Equal rights for all before the law.
Freedom of religion.
Freedom of speech and association.
The values of openness and tolerance.
Kathleen Donelly, Admin. "Donkath"